In the Bathroom: Impacting Climate Change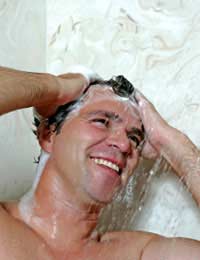 The bathroom probably isn't the first place you think of when it comes to reducing our impact on the environment, but to minimise the effect we're having in terms of using the earth's vital resources, we need to look at the full picture - including the less obvious places in our homes!
Next time you head to the bathroom, try and adopt some of our green and energy saving tips which are both good for the environment and even your monthly finances. Even making small scale changes to our everyday lives will collectively make a difference in the overall fight against climate change.
Use Energy Efficient Lighting
Rather than picking lights for decorative purposes only, think green and invest in lighting that's also energy efficient. There's plenty of selection out there, with many of the well-known bathroom brands stocking energy efficient versions of light fittings – including mirror lights and spotlights. Switching all your home's lights to energy efficient bulbs will save you around £10 a year.
Spruce Up, Don't Replace Your Bathroom Suite
There has been a recent tendency towards replacing rather than fixing bathroom suites – fuelled by changing fashions and fads, the availability of cheaper items from stockists and DIY home makeover shows. But throwing out usable items is bad for the environment, not to mention a wasted opportunity. Repair chipped baths with enamel touch-up and use natural cleaning products (such as lemon and vinegar) to get toilets, sinks and baths gleaming. If you want to makeover your bathroom, invest in new fittings rather than suites as a compromise.
Take a Shower
Baths may be relaxing – but they're also an enormous waste of water. Having a bath, on average, uses five times as much water as a shower does. This can add up to 400 litres a week. Choosing to shower instead will minimise your use of water – increasingly a scarce resource, even here in the UK – as well as reduce your water bills if you're on a water meter.
Minimise Your Water Usage
As well as choosing a shower instead of a bath, there are also other ways you can reduce your water usage in the bathroom. For example, when brushing your teeth, use a tumbler to rinse your mouth out – brushing with the tap running wastes almost nine litres every minute. Fitting a water saving device such as the Hippo will also help to reduce the amount of water you use when flushing the toilet, by an average of three litres every flush. Your local council or water company will often provide these to you free of charge if you request one.
Fix Any Leaks
Leaky taps are costly, irritating and bad for the environment – and are often as simple as tightening a loose pipe to fix. Use a Do It Yourself manual to fix the leak yourself, or if you don't feel confident enough, enlist the help of a professional to take a look at the problem for you. In the long run, you'll save money on the wasted water that's drip, dripping away.
You might also like...