Cavity Wall Insulation and Energy Saving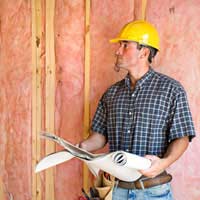 Between the ever rising cost of fuel and the need to reduce our carbon emissions, there has never been a better time to start saving energy and as we all know, having adequate insulation is one of the best ways to do it.
However, mention "insulation" and most people automatically think about their lofts, but for many houses built after 1920, heat loss through the walls can be just as much of a problem – accounting for around a third of the heat lost in un-insulated homes.
Cavity wall insulation can cut the average household's energy bills by some 15 per cent – around £90 a year according to the Energy Savings Trust – and with a five year pay-back and a range of attractive grants to help meet the cost, what are you waiting for?
Insulating Cavity Walls
In the 1920s, the traditional way of building houses was widely replaced by a new method which involved making external walls in two layers – often a brick outer and a block-work inner – with a gap between, which was supposed to help reduce water penetration. However, if the cavities between these two layers remain unfilled, a significant amount of energy can be lost – which in today's world has ramifications which could never have been foreseen nearly a century earlier.
Installing cavity wall insulation could hardly be easier – it's a quick and low-mess operation, taking trained technicians only around three or four hours to complete for an average house. Insulation is injected into the cavity through a series of small holes which are drilled at intervals into the walls – normally from the outside – and then filled once the procedure is finished.
The most commonly used types of insulating are mineral wool or polystyrene beads, blown into the cavity by compressed air or urea-formaldehyde foam which is injected as two separate chemicals which form the foam when they mix – and then expand to fill the space. Certified contractors only use properly accredited materials which are guaranteed by the Cavity Insulation Guarantee Agency (CIGA) – so it's worth checking credentials before you finally pick your workmen.
To help you make the right choice, you might like to contact your local Energy Efficiency Advice Centre, CIGA or the National Insulation Association (NIA) – all of whom should be able to provide you with details of the registered installers in your area.
Does It Work?
Filling the wall cavity with a suitable insulation material can make a huge reduction in the amount of heat lost through the walls, as well as helping to maintain a more constant temperature, thus reducing condensation and stopping your home from getting too hot in the summer.
In environmental terms, the Energy Savings Trust estimate that the 800,000 households that installed cavity wall insulation between 2002 and 2005 avoided some 400,000 tonnes of CO2 emissions between them – enough to fill the new Wembley Stadium nearly 50 times.
For an individual property, with a typical installation cost of around £500, the expected savings in energy bills mean it should pay for itself in around five years – and avoid some 750kg of annual carbon dioxide emissions. Nationally it has been estimated that if all the county's currently un-insulated houses were to fill their cavities, the resulting energy savings would be enough to heat 1.4 million homes.
The economics are particularly attractive at the moment, since in addition to escalating energy costs there are a number of grants available to help meet the costs of insulating your walls, through Central Government, local authorities and energy suppliers.
Under current arrangements, most people qualify for at least 30 per cent of the installation, but depending on location and personal circumstances, in some cases as much as 100 per cent can be met, so it's certainly worth finding out what you may be entitled to get.
According to the Energy Saving Trust, our homes account for almost a third of all the UK's carbon emissions; cavity wall insulation offers a very effective way to begin making a real difference – and for a surprisingly small cost.
You might also like...
Extremely interesting. Thank you for giving such an informative blog.
Loft and Insulation
- 4-Aug-21 @ 4:27 AM
Wow, that was incredible. This is an excellent post. Thank you for sharing this information.
Loft and Insulation
- 5-Jul-21 @ 2:13 AM
You delivered it so well. I hope you make some more of this article. Thank you.
Loft Boarding Specia
- 6-May-21 @ 5:09 AM
Thanks for making this web-site, and I'll be visiting again.
Shelter4GreenDeal
- 4-May-21 @ 6:59 AM