Alternative Forms of Insulation For Your Home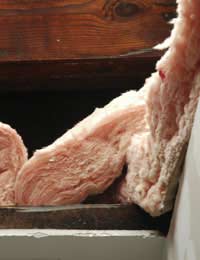 The benefits of insulation are well-know and with energy prices rising and a growing number of people increasingly concerned over the looming prospect of climate change, installing adequate home insulation has never been more important.
Although the traditional insulation materials such as fibreglass, foam and mineral wool have a long established track-record of use, a number of alternative forms of insulation are becoming ever more popular.
Using Natural Insulation
Insulation made from natural materials have an obvious appeal - although they tend to be fairly energy-intensive to produce in the first place. However, on the positive side, they are natural, provide very good insulation and are generally safe and easy to use. There are a number to choose from, including:
Foamed Glass Slab - made from more than 60 per cent recycled glass, it is a long-lived material with good fire resistance.
Expanded Clay Aggregate - raw clay fired to produce an aggregate which is naturally fire and water resistant.
Perlite - produced from volcanic material, Perlite has natural water and fire resistant properties and makes an excellent natural alternative to expanded polystyrene beads.
Organic Insulation Materials
Organic materials generally require considerably less energy to produce than either natural or more conventional types of insulation - and this low-embedded energy factor makes them particularly low-impact materials, which accounts for much of their growing popularity. Like more energy-intensive natural forms of insulation they are also safe and easy to install, but for many people, their inherent low carbon-footprint gives them a definite edge and there is a wide variety on offer. Some of the most popular include:
Cellulose - made from recycled newspaper fibres, this material has obvious green-appeal. Usually treated with inorganic salts to improve its fire-resistance and dosed with fungicide to improve stability, cellulose makes an ideal alternative form of insulation.
Sheep's Wool - another popular and sustainable material, wool - marketed under the name of "thermafleece" - is an excellent insulator. It is breathable, absorbs moisture and has remarkable natural thermal qualities - as well as being fire resistant.
Straw - one of the oldest methods of insulation, straw is enjoying something of a revival. While it scores highly for its good thermal properties and an unbelievably low embodied energy, its weight and susceptibility to mould do tend to limit the uses it can be put to.
Hemp - an increasingly popular choice, this material is naturally resistant to fungus and insects, making it particularly useful for some applications.
Flax - a form of linen, flax is becoming an increasingly popular alternative form of insulation.
Cork - with a natural resistance to rotting, cork makes a very useful alternative form of insulation for the home, although since most of the cork in the UK is imported, it has a higher level of embodied energy that many other kinds of organic home insulation material.
According to the Energy Saving Trust, around half of the heat lost from a typical home escapes through the walls and loft - which makes these areas obvious candidates for good insulation. With our homes accounting for something in the region of a third of the UK's total carbon emissions, installing proper insulation can make a major contribution towards reducing the national carbon footprint - as well as making a big difference to our own energy bills.
With the wide range of alternative forms of home insulation now available, we can achieve all of this and use materials which are sustainable, have low-embodied energy and offer high recyclability too - a win-win situation, if ever there was one!
You might also like...
The info provided made me wantb to make a shrine of shrek. #shrekisloveshrekislife
Big Al
- 10-Nov-15 @ 8:54 PM
It would have been usefull to have more info on each product . Personally my interest is cork external insulation for a solid brick wall . Links to other sources of info and suppliers etc too
Corky
- 6-Aug-11 @ 6:57 PM