Double Glazing and The Effect on Climate Change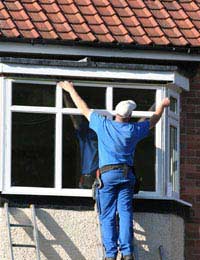 As our homes are responsible for a large proportion of the UK's overall CO2 emissions - having a direct impact on the acceleration of climate change - it is important to consider green and environmentally friendly features when you come to buy a home.
Even if you're not moving home, or simply happy in the home you're in, but concerned about your environmental impact, there are still measures you can take. Take a fresh look at your home and consider some different ways you can make it greener.
An important area to look at is how insulated your home is, as heating our properties amounts to almost a third of wasted energy. The better the insulated your home is, the less your total carbon footprint will be. Double glazing is an excellent way to make your home better insulated, and ultimately has a positive impact on the environment.
Double Glazing: How It Works
Double glazing, when installed around your home, can cut your heat loss by half. Double glazed windows are exactly that - two, double panes of glass which work by trapping air between them. This trapped air acts as a barrier to heat, sound or anything else trying to escape through the windows. This means that you'll need far less energy to heat your home than before, as the heat generated will be staying where it should be - in your home and not outside!
Double Glazing: The Work Involved
One of the biggest barriers to getting double glazed glass in your home might well be the cost - but it's a competitive market, and shopping around for several quotes will ensure you get the best value deal. If you can, choose 'energy saving recommended' double glazing, which will maximise the green benefits of the work.
Due to the complexity of the work, you should always leave the installation of double glazing to the professionals. Depending on the size of your home, and the number of windows of course, the job can take 1-2 days to be completed.
Nearly all new-build homes come with double glazed homes as standard these days. But even better is Low-E glass, a relatively new development in the glass world, which, when added to double glazing, gives it the same energy saving properties as triple glazed glass.
Double Glazing: The Benefits
Once you get your double glazing in place, you'll immediately feel the ongoing benefits to your bank balance. According to the Energy Saving Trust, you should save on average £80 to £100 a year on your energy bills due to the energy saving features of the double glazing.
And it's a thumbs up for the environment too. That £80 to £100 a year saved on your energy bills equates to 740 kg a year in CO2. Put another way - if everyone in the UK who needed to install double glazing did so, then the total CO2 emissions for 800,000 homes would be eradicated from the UK's overall carbon footprint.
So do your bit for the environment - and your finances - by getting double glazing installed in your home, and always choose glass which has the best energy saving qualities.
You might also like...
Does it take more energy to manufacture double glazed window units than is saved by them in reduced heating bills
Running Mum
- 27-Apr-19 @ 5:26 PM