Loft Insulation and Climate Change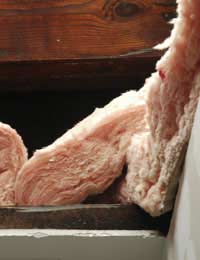 Running and heating our homes accounts for nearly a third of all carbon emissions in the UK, according to the Energy Saving Trust - making housing a key area where we can tackle the onset of climate change. And a significant 15% of our home's heating costs is completely unnecessary - that's how much heat escapes out homes through the roof.
Insulating our lofts can make your home significantly more energy efficient, and an area that the government is promoting. By 2016, the government has pledged to ensure that all new homes built will be carbon neutral - which includes energy efficient loft insulation in every home. But what about existing properties, and in particular period homes, without loft insulation?
Find out about the benefits of installing loft insulation for you and the environment, and how easy it is to get it in your own home.
What Is Loft Insulation?
Loft insulation is simply a piece of material laid on the floor of the loft. The insulation itself can be made of several different materials, including mineral fibre, fibreglass matting or mineral wool. The material needs to be comprised of coarse, thick fibres. Alternatively, you could take an even more green approach, and use recycled paper or processed sheep's wool.
How Does Loft Insulation Make My Home More Energy Efficient?
The insulation works by acting as a blanket, trapping heat from the floors below and stopping the heat escaping through the roof of the property. The fibres prevent the movement of hot air through the material and won't conduct heat.
When installing, it's important to lay the insulation properly, as overstretching material means it loses its heat holding benefits. Laid properly, you can save up to £110 a year on your heating bills, as well as over a tonne of CO2 emissions.
According to the Energy Saving Trust: "If everyone in the UK topped up their loft insulation to 270mm, £380m would be saved each year. That's enough money to pay the annual fuel bills of over 400,000 families."
How To Install Loft Insulation In Your Home
Installing loft insulation is a relatively simple task - meaning you can do it yourself. This will help lower the cost of the work, which can start at around £250. Alternatively, enlist the help of a qualified professional to complete the work for you to guarantee the insulation is installed to a high quality.
Here are some tips to help you complete the job to optimum effect…
Always wear the correct protective equipment when completing the work, including clothing and masks
Ensure that you're working on a firm and adequate surface, and that the floorboards are secure
Walkboards can be installed over the layer of insulation, after the work is complete
If you have a cold water tank or pipework in your loft, never insulate below it
Never work in a badly lit environment - if necessary, run an extension lead with a light upstairs
Before you start work, check that there's adequate ventilation in the loft area
Be careful around electric wires - never lay insulation over wires, otherwise they could become overheated and cause a fire
If you're ever in doubt, or unconfident about completing the job, get a professional to do the task for you.
Grants Available
There are several grants available to help you pay for your loft insulation. Contact your local council to see what help is available in your area, or contact your local Energy Saving Trust office for more information.
You might also like...