In the Garden: Impacting Climate Change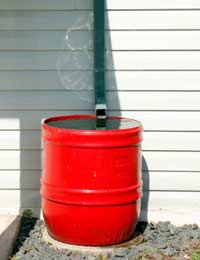 Our gardens are areas for rest, relaxation, children, parties, barbecues and more… the list goes on! But, just as with other areas of the house, everything we do in our gardens affects the environment, and could be having a negative impact on your attempt to combat the effects of climate change. Remember, the garden will be the first place to be affected by some of the more extreme weather conditions climate change might bring, including floods, droughts and storms.
Ahead of the spring and summer sunshine, when many of us will be enjoying our gardens, we've come up with some clever ways to minimise your impact on the environment. From hosepipes to patios to plant life, read our tips for going green in the garden.
Sprinklers & Hosepipes
Many areas of the country, particularly in the South East, have water sprinkler and hosepipe restrictions imposed during hot summers. Impose a ban on these items all year round in your garden. Watering your lawn with a hosepipe for two hours a week adds up to a massive 30,000 litres a year. Instead, invest in a water butt to collect rain water. These can be purchased from your local council, usually for a discounted rate.
The water can be used for watering the lawn, plants and flowers. Plus, don't forget to throw used water - for example, a bowl of water used to wash vegetables - on to your lawn rather than down the sink.
Patios & Lawns
As well as reducing your garden's natural greenery, replacing lawn with concrete patio slabs can be more damaging to your home than you might realise. The natural absorbency of soil and grass makes it a much safer option in the event of flooding and will significantly reduce flood damage. Plus, extra plant life is always better for the environment, as it naturally absorbs carbon dioxide.
Greener Barbecues
Source all the goods you need for your barbecue, from charcoal to sausages to salad, from local suppliers. Always ask if the charcoal is from a sustainable source and not rainforest - your nearest farmers' shop usually has a supply.
Greener Garden Furniture
There are a range of options available when it comes to making a greener choice for your garden furniture. Always buy wood furniture where the raw materials are sourced from sustainable forests - but beware of ambiguous claims where 'rainforest trees are always replanted', as it may be false.
Ask to see certification of any sustainability claim, for example from the Forest Stewardship Council (FSC). Better still, recycle wood and other materials you already have in your home or in the garden to create original, rustic seats and tables of your own.
Grow Your Own
Follow in the green footsteps of the classic sitcom
The Good Life
and set up an area of your garden for growing your own goods, avoiding the need to take a trip to the supermarket each time you stock up on fruit, vegetables and herbs. It's a healthy, sustainable and economical way to create a ready supply of fresh goods in your back garden. Give any excess goods to your neighbours, or sell to local grocers.
Plants and Wildlife
Complement the local wildlife by planting indigenous plants, shrubs and greenery in your garden for all year round colour and texture. Avoid using pesticides, which can be poisonous to animals and will pollute the local area, and go organic instead. Create a ready supply of free compost by investing in a composting bin. This allows you to recycle unwanted green waste, cardboard and paper and create the perfect growing soil.
You might also like...