Climate Change and The Washroom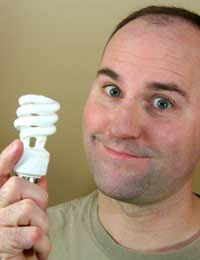 Issues around the Washroom essentially involve saving water, saving electricity and using the most environmentally friendly cleaning products. For further details on saving water see related article.
For now, remember not to leave taps running, have washers replaced if a tap washer has worn away, fit a device in all of your toilet cisterns to reduce the amount of water used per flush (reducing the normal 6-13 litres used each time) and use the most efficient washing machines available if you have laundry facilities (the Energy Saving Trust stipulate that all new washing machines must be fitted with energy efficiency information).
With regard to saving electricity, only have the lights turned on when the washroom is being used, never if adequate natural lighting is present and install energy saving light bulbs in all light fittings.
Other than that it is wise to watch what you use to clean your toilets and basins as these are the areas that often require the most in terms of chemical cleaners, many of which are flushed or washed straight into the water supply.
Using the Safest Chemicals
This is something that applies across your company but something that is of primary importance in the Washroom as one of the main counts upon which you may best contribute to a cleaner environment.
Many cleaning chemicals are not only manufactured in ways that are harmful but also have potential direct health damaging effects in the shirt or long term for people exposed to them. As part of your health and safety policy all cleaning agents and other chemicals should be checked over for any potential harmful or hazardous effects.
A number of companies, such as 'Ecover' and 'Marks and Spencer's produce environmentally safe cleaning agents which can be used throughout the work place. More and more commonly these agents have similar cleaning power to other chemical cleaners.
Other than the specially manufactured products you can buy for your Washroom, there are a number of natural alternatives that can be used for cleaning which you may have to hand already, or that you may refer to use in any case. Baking Soda is ideal for cleaning sinks, whilst white Vinegar is adequate for cleaning tiled surfaces, taps and so on. Drains can be cleaned with half a cup of salt heated in water and poured down into the affected area.
A mixture of half of a cup of vinegar, a quarter of a cup of baking soda and 4 or 5 litres of water is ideal for cleaning most surfaces to a high standard and is highly effective in killing germs. For small to medium size floor areas try a mixture of one part vegetable oil to one part vinegar and be sure to apply some elbow grease to get the blend worked in well!
Using a mixture of bought cleaning products and to hand ingredients is one way that your business can contribute to a safer environment for the future.
You might also like...