Climate Change and The Storeroom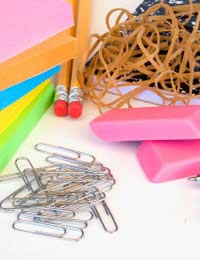 Most companies have store room or store cupboard of sorts. Many have several – for example, an office store a garage store, a yard store and so on.
The key in any case is to run your store as efficiently as possible, with minimum fuel and electricity waste in the procurement and distribution of materials and to make sure that the materials you use are as environmentally friendly as possible.
Keeping Stock for a Better Environment
Whoever keeps the store room in order in your company is usually responsible for ordering and for ensuring the sensible and economically sound distribution of materials. If materials are not managed well money will be lost and energy will be wasted. The trouble is, human nature being what it is, unless a tight rein is kept on stores things will be wasted in the course of general work, or as they go 'walkabout'.
One way to avoid this is to hold a very tight rein on equipment and having employees sign for and justify everything they use. That is fine, although this entails employing one person to take care of stores permanently, and therefore means a greater use of resources in paying for and maintaining that position.
In any case, the best way to ensure that your employees use equipment in the most efficient way is to educate them in their environmental responsibility: This may well, in some cases, impact more on them than outlining their responsibility to company prosperity.
Whatever industry you are in there will be information available on the best use of materials, with many products containing information on how environmentally sound they are. Some will carry no information, in which case you may assume that they have not been produced with the environment in mind.
By law a company cannot highlight their eco credentials with no basis for this in fact, so where possible go things that are 'recycled' and 'recyclable' (with regard to paper especially), locally produced, and 'organic' where applicable.
The efficient recycling of materials must be encouraged down to the point where materials should be chosen for their ability to be recycled, even if this means in such a way as to make use of things for a purpose they were not originally intended: Plastic bottles can be used effectively in the garden to grown seedlings and cuttings, for example. Old scraps of wood and material may always come in handy and are worth keeping to one side.
Stock only energy efficient light bulbs, and where electrical equipment is concerned try and ensure that you have the most efficient model of a given product to hand. Information can be found with regard to electrical output on most electrical products shops will be happy to help you find the most energy efficient model you can.
Finally, think about the efficient use of the store room itself – maximise space and fit a bulb that on goes on when someone enters the room: Better still: if you only have employees in the store during the day try to light the room naturally if there are any windows.
You might also like...