Climate Change and The Office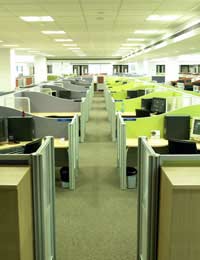 With banking and insurance industry's being central to the economy of the country, office workers comprise a significant portion of our total work force.
Most companies operate an office that can vary from an area of a room dedicated to running clerical tasks to a multi storey building packed with hundreds of workers, to a work at home enterprise.
Whatever kind of office you work in or run you will find there are a few simple things that can be done to help you save energy and thus reduce your 'carbon footprint'. The carbon trust run a number of schemes to help businesses and issue literature specific to office workers.
By contacting them you can ascertain the average carbon output for your industry and company size. From there you can make steps to modify your output.
No Job Too Small
There is no job that should be considered too small with regard to cutting emissions in the office. From moving the office around to save time and energy, to fitting energy efficient light bulbs (which you will soon be legally obliged to do in any case), to insulating your entire office and powering your equipment from energy efficient sources (see related articles) every change counts over time.
Principally as the main use of resources in the office revolves around the operation of computers, photocopiers, fax machines, lights and other electrical office equipment they key is to cut use where possible. Setting all equipment on a timer and using an energy efficient plug (which turns off the supply of electricity when a machine has not been in use for a period of time) will help you to cut electricity usage where possible.
Additional small changes can be made with regard to the use of radio's (use a wind up version), pda's, mp3 players (even if you are not supposed to be listening to one!) and mobile phones.
Gadgets
Employees may be encouraged to use devices such as the 'freeloader' which charges mobile phones and camera's, etc either from the energy of the sun or from your computers USB connection whilst it is plugged in. Similarly, it is possible to charge AA batteries directly from your USB, using the 'USB Cell', a battery which incorporates a USB plug within its body.
Small photovoltaic cells can also be purchased to power a laptop battery and are particularly useful for business trips in warmer climates, solving that 'where to find a plug socket' problem when on the move. Saving batteries where possible is essential as they contribute to further environmental damage when disposed (if not recycled possibly) as well as entailing environmental damage when first produced and transported.
There are a wide number of eco gadgets, and it always worth having a look to see what is now available as the industry for eco-friendly ware is growing week on week. By encouraging employees to use what is available (and by making it available to them) you serve to save money and protect the environment. Use your ingenuity to make use of other people's!
You might also like...