Supporting Local Businesses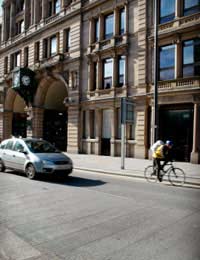 Think global, act local: that's the mantra we all need to adopt when it comes to tackling the onset of climate change. Spending time in your local community not only helps you engage more closely with its residents, but conducting day-to-day activities in your local area also minimises your carbon footprint. Supporting and buying from local suppliers is one way of connecting with where you live.
Here are just some of the ways you can get involved and support local businesses. Your local actions could be as small as buying your bread at your local shop rather than an out of town supermarket, finding the next farmers' market in your area, to having a pint at your local!
Leave The Car At Home
One of the key benefits of shopping locally rather than in out of town shopping centres or supermarkets is that you're less likely to need to use a car to get there. Walking to your local facilities reduces your carbon footprint by reducing the greenhouse gases you would have emitted. Car emissions account for 15% of the UK's overall carbon emissions according to the Energy Saving Trust - that's 85 million tonnes - and many of those journeys are not actually necessary.
Local Foods, Not Supermarket Shopping
Going shopping for your food from local providers gives you direct access to a range of fresh, seasonal, regional produce. Shopping close to the source of a food product means that fewer food miles have been generated during the production and transportation of your food. This is good news for the environment and your mealtimes - you get fresher food, you know where it's come from and how it's been produced.
On the other hand, supermarkets have been largely criticised for stocking foods that have travelled thousands of food miles to reach their shelves. According to DEFRA figures, in 2002 the transportation of food accounted for just short of 20 billion vehicle miles.
Visit Your Local Pub!
Ok, so it's not often that going to your local is positively encouraged, but supporting your local independent public house, often the focal point of a community, is a much greener option than visiting chain bars or big brewery pubs. The Campaign for Real Ale campaigns for local pubs and brewers of local ales to stay open, reporting that 56 independent pubs are being forced to shut down a month.
Find Your Nearest Farmers' Market
Farmers' markets have grown in popularity in the past few years, offering the opportunity for shoppers to purchase directly from local food producers. This enables both parties to buy and sell products at a more competitive price - crucially because this direct approach cuts out the middle man (supermarkets and other shops).
Suppliers can only sell at these markets if they meet specific criteria - namely that their product is locally grown and produced, and producing it was done without exceeding pre-defined levels of CO2. Plus, the outdoor hustle bustle of a market environment makes shopping a more pleasant and enjoyable experience.
Local Businesses Offer Diversity
Shopping locally can enrich your shopping experience - and give you access to locally produced, unique items that haven't been mass-produced. Small local businesses can help to create a close knit, cohesive community, which in turn helps to make it a better place, and encourage people to stay in their local area more often.
You might also like...