Organic and Low-Carbon Food Choices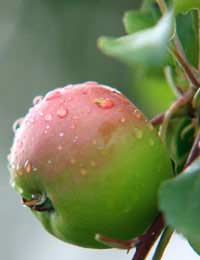 Changing your eating habits may seem a strange way to approach preventing climate change, but when so much of our food travels so far to reach our tables – an estimated 20 billion miles each year in the UK alone – its contribution to greenhouse gases soon mounts up.
With transporting the food to feed us by air, sea and land adding an annual total of more than 18 million tonnes of carbon dioxide to the atmosphere, your diet can have a bigger impact than just what you see on the bathroom scales!
As a nation, we have never had such a variety – or abundance – of food offered to us any time in our history and we have all become rather used to being able to buy all manner of foodstuffs irrespective of the time of year.
One of the inevitable consequences of this kind of "out-of-season" shopping is that nearly 95 per cent of the fruit we eat in Britain –and about half of the vegetables – were produced abroad and brought in, to satisfy our demand. Today the phrase "seasonal vegetables" is seldom seen anywhere except on a restaurant menu.
In the 1990s, the concept of "food miles" emerged as one of the first attempts to increase awareness of this issue; today an increasing number of people are looking to address the idea of what has become known in some circles as their carbon "food-print." The key is to adopt a more sustainable approach to food-shopping and eating – with organic and low-carbon food choices high on the list of ways to change your dietary regime for the environmental better.
Organic Food
The whole idea of organic food has taken off in recent years. Once the preserve of a small minority of principally health-conscious, hard-core enthusiasts, it has emerged to enter the mainstream, with an increasing number of high street outlets now offering a range of organic products.
Operating a sustainable system of agriculture, organic farmers work under strict restrictions – particularly on the use of fertilisers and pesticides – and inspections ensure that the rigorous standards are fully met. There are nine organic certification bodies in Britain – with the Soil Association being the most widely recognised – and for food to be certified and legally sold as "organic", it must first comply with a series of stringent standards.
Low Carbon Food
All the talk of "low carbon" versus "high carbon" foods really takes over from where the idea of food miles left off, by providing a way to compare the complete carbon cost of a given foodstuff throughout its entire production and preparation cycle.
To be absolutely accurate of course, this kind of analysis has to take into account a myriad of complex factors including how intensive the method of production was and the amount of agricultural chemicals used as well as the energy used both in production and eventual transport. It's not exactly the sort of thing you can do quickly, standing in the supermarket, but fortunately there are a few simple general guidelines to bear in mind which should help.
Avoid Highly Processed Foods - generally speaking, the more processed a food and the more steps there are between production and table, the greater the energy that has gone into its manufacture, so it is likely to be relatively "high carbon".
Avoid Over-Packaged Foods - packaging can account for as much as a quarter of the energy used in food production and can often end up needing to be disposed of, if no suitable recycling facilities exist.
Choose Less Meat - raising animals for meat generally requires more energy, water and land than raising crops.
Eat More Vegetables - the government's "five-a-day" campaign has already raised awareness of the health aspects of eating vegetables; in addition, a vegetable diet is less demanding of resources – though it does depend on where they came from and how you buy them.
Think About Buying Local Produce - locally produced foods can often qualify as low carbon, but not all imported foods use more energy than home-grown produce. Intensive production methods may sway the carbon-balance and it's not all just about distance – the method of transport matters too – so the food miles argument is not always as black and white as we might like!
Go Organic - whether or not organic foods actually do taste better is a subject of much impassioned debate, but their production certainly avoids many of the pollution risks of conventional agriculture and encourages biodiversity.
Few things link us quite so directly to the environment as food or remind us so clearly just how dependent we are on the planet for our survival. Looking at how our food is produced brings together so many of the global concerns over land, energy and water resources – and with a little thought about the selections we make, we really can make a difference every time we pick up a knife and fork.
You might also like...