Regenerating Local Communities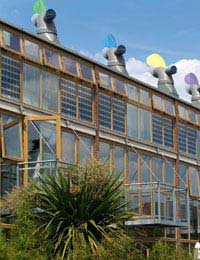 Individual lifestyles - be that proud gas guzzlers to 21st century eco-warriors - collectively have an enormous impact on the environment and world around us. From the size of our cars to the homes we live in, making conscious green decisions about the way we live our lives is good news for the environment, and for the ongoing fight against the effects of climate change.
The communities we live in also have a bearing on climate change. A person's local area will shape how they're impacting the environment - as well as perhaps limiting the extent of their green intentions. Making our local communities greener through regeneration is another way local people can help make a lasting difference.
Town Planning
By better organising local facilities and amenities, including shops, schools and supermarkets, local communities can become much more accessible places - which ultimately means less CO2 emissions through travel per person in that area. Here are a few clever ways local communities should be planning the structure of their town:
Schools should be close to residential areas - to promote walking (not driving) the school run
Local shops should be located together to avoid the need for extra travel
Cycle lanes should be planned in throughout the town
The centre of your town should be pedestrianised
Green space should be available as widely as possible
Parks, Trees & Green Spaces
Trees and greenery are good news for CO2 levels, as plants, trees and flowers survive using CO2 during photosynthesis. Planting more trees is particularly vital following the recent report that numbers of trees as a whole, according to the Intergovernmental Panel on Climate Change, are absorbing an increasingly smaller proportion of manmade CO2 emissions due to increases over several decades.
With a shortage of space in many urban areas, adding more green areas means some clever, minimalist planning. Including a row of small trees along your road, new houses with gardens (rather than patios) and communal gardens for flats - these all help to make your area more green and pleasant for you and local wildlife. And greenery in your local area isn't just good for the environment. It also makes a place look nicer, creates a relaxing, family friendly area with a positive atmosphere, and ultimately makes you want to spend more time close to where you live.
Leave The Car at Home
Our local communities need to do more to become accessible without a car, and much of this has to do with design and layout. Regenerating our local communities in a way that's good for the environment is about creating more pedestrianised areas, increasing the number of cycle lanes, and introducing schemes such as Park and Ride - where drivers leave their cars outside the town or city and ride into the centre using public transport.
Making these sort of schemes the rule rather than the exception will start to change the traditional mindset of drivers, and persuade them to use alternative forms of transport. Many journeys carried out in the UK are short, unnecessary trips that could otherwise be avoided.
Yes - In My Back Yard Please
Renewable energy sources - wind, solar and hydro electric in particular - have the potential to provide a very significant proportion of the UK's overall energy needs. Unlike fossil fuel energy generation, renewable energy will not run out and is a massively cleaner form of energy. But local communities need to embrace the potential of this largely untapped resource, and be willing to house renewable energy stations rather than have a 'Not In My Back Yard' attitude. Offshore facilities alone are not enough to meet the UK's energy demands.
You might also like...