Identifying Workable Solutions for Climate Change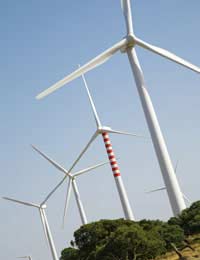 Finding solutions to global warming and climate change is possible. There are many workable objectives already in place, and many more to discover. Being prepared to explore the possibilities of finding solutions requires a high level of effort and commitment however.
Clean Energy
Global warming has been generated by our continued reliance on fossil fuels. In order to help control the effects of further climate changes we must learn to make better use of the energy we already produce. Global investment in clean renewable energies like wind, solar and biofuels has increased considerably in recent years, but in order to prevent further global warming pollution we have to increase our energy efficiency.
Personal Choices
Making climate-friendly choices in our lives is the first step towards improving understanding of the climate crisis. We can all take positive action by switching to electricity that is powered by renewable energy, purchasing energy efficient appliances and by travelling by public transport whenever possible. These, and other small changes that we integrate into our lives, can all help increase public awareness of global warming, and reduce the contribution that we each make towards it.
A sizeable percentage of energy-related climate change pollution is caused by carbon CO2 emissions from cars and other vehicles. Innovation and technology can however provide transport solutions with better fuel economy and improved safety measures, so we need to make educated choices when it comes to travelling for work and pleasure.
Business Choices
Many industries are already working to implement changes in the way they work, which in turn will deliver practical solutions that will help mitigate the effects of global climate change. Organisations in the private and public sectors are implementing changes that will improve and increase sustainable communities. By becoming more globally aware businesses are supporting a low carbon economy and also increasing profits.
Renewables
With proper economic incentives, and technological innovation, put into place climate change can be sufficiently slowed down and managed. Introducing renewable energy programmes provides a workable solution to coping with global warming. A solution is already available in the form of renewable energy from solar power, wind and biofuels. In order for this type of energy to enable us to control the damage already caused by climate change however, we need to become better informed about the advantages locally, nationally and globally.
Water Power
Comparable to wind power, tidal and wave power both generate sufficient energy resources, with low environmental implications. Tidal power is harnessed by deep marine currents, which are driven by tidal movements. The power output is high and can be predicted, which makes this form of energy a stable source of alternative power.
Wave power, on the other hand, is harnessed quite a distance from the shoreline, where the waves become more consistent. Wave movement generates electricity, although this form of energy source has to date not been as widely explored as tidal power. With increased technological advancements pilot projects around the world have a huge potential to harness power in a climate-friendly manner.
You might also like...