Educating Your Staff on Climate Change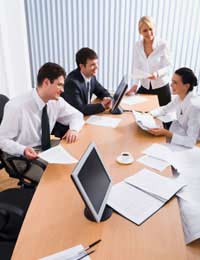 One of the most valuable skills that any company can develop among its staff is the ability to adapt. In the current day and age this inevitably involves an ability to address issues surrounding climate change. Clearly, although a company must implement a climate change policy from the top down if it is to work – it must be enacted across the company, incorporating the willingness of all staff from the bottom up.
Just as you educate your staff day to day in the course of working practice, safety issues and so on, and throughout the year via the addition of workshops and courses that relate to their job needs, it is necessary to educate your staff in the necessity of addressing factors surrounding climate change if you are to thrive at a time when it has become as much a legal requirement as a practical necessity to do so.
Addressing Staff Needs
How you choose to educate your staff will depend on your sector, your current situation, and their level of knowledge. To start with, it is a good idea to establish a level basis of knowledge, whereby you know that all of your staff are aware of issues surrounding climate change, and of the joint responsibility that we all, arguably, have in addressing climate change. It is important at this stage to be open to debate regarding the effects of climate change, whilst remaining form on the necessity to address these effects.
Draw a clear link between the actions of the individual and carbon emissions that result from these actions, ensuring that people are aware that they need not directly burn carbon to be responsible for its emission. If in doubt at this point be sure to prepare or use a readymade pdf or online tutorial, to make explicit the chain from consumption or energy use to carbon emission.
Once a level basis of knowledge has been established it is possible to educate staff in the importance of basic climate change prevention practice. Such practices often start in the home and at work in the communal areas – the canteen and the washroom. For this reason joint responsibility is needed in approaching the most basic of issues: recycling and saving water.
Explain the need to recycle and save energy and water, whilst explaining the benefits of doing so. At this point it is good to highlight the money saving aspects of good environmental practice as this is the point at which you have, as an employer, a genuine 'stick to wave'. Naturally, you are in the business of making money, whatever your company does, and this often the best way to get employees and investors alike to see the direct benefits of addressing climate change issues.
Finally, get each employee to take a look at their daily working practice, from their commute to work, to their break time habits, to their literal working day. Ask them how they might reduce overall carbons emissions that result from their practice.
Setting aside time to help employees reduce their emissions will help your company overall and will ensure that your employees feel the full benefits of changes to working practice. Your employees are your biggest asset and no major change can be made without them. Treat education as a priority if you are to address climate change effectively.
You might also like...