Performing a Climate Change Audit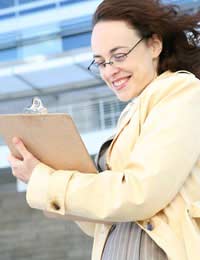 The idea that maintaining simple procedures that protect the environment also has a financial benefit is starting to become common sense. However, old habits die hard, and many people in the thick of daily activity just don't seem to find their way to the recycling bin, or find they are able to remember to turn appliances, machinery and lights off when they are not using them.
The government have taken companies and organisations to task on this by implementing the 'Climate Change Levy', a tax payable on the amount of energy a company consumes. Whilst critics point out that this is not enough in the light of accelerating global warming, it provides a direct correlation between use of energy and loss of money.
Employees may be taken to account on this basis if they use too much electricity or other energy (after all, you are employing them to make you money, not lose you money!). However, this in itself does not go nearly far enough in pointing to the amount of money that can be lost in using excessive amounts of energy, or indeed the amount that can be made in saving energy.
Why Perform an 'Audit'?
The best way to ascertain exactly how much you are currently losing by not implementing the most environmentally sound policy you can is to perform a sort of 'climate change audit', whereby you look at your expenditure now, right across your company, from the smallest item used to the biggest consumers of energy you have and see what you could do to save on resources and energy right across the board. In doing this you can take a dual pronged attack to the issue and ascertain how much carbon you can save, whilst ascertaining hoe much money you can save.
Making the 'Audit' Easy
As most companies perform some sort of annual check over stocks, expenditure and profits, it probably makes sense to combine your 'climate change audit' with your normal end of financial year financial examination. In this case you effectively simply need to note the carbon footprint of each activity you perform at work, whilst noting the value of your stock.
Doing this in tandem can enable you to see what stock and machinery might be used more efficiently or might be fazed out in favour of other stock on the basis of both its cost and its environmentally sound credentials.
It is possible to get information from the carbon trust which will help you to project into the future the savings that you might make by buying ore efficient machinery, light bulbs and appliances, insulating your buildings and by generating your own power.
Other companies can also give independent advice, the benefit being that (as with a full financial audit) a third party may be able to see possible improvements where you cannot.
Of course, in performing this kind of check you will be forced into a position of probably considering factors affecting your financial efficiency in far more details than if you took a normal routine financial overview of stock, performance, company efficiency, outgoings and profit.
The hope is that in doing this the importance of saving energy is made explicit in it link to financial rewards. If you perform such checks in line with the filing of annual tax forms, usually at the end of the tax year you will be able to get a full overview of finances, incorporating any possible savings made on the climate change levy with any possible future profits made in saving energy.
This double strategy should be enough to make any sensible employee see the benefits of saving energy, especially if, as a bigger or more established company, you are able to offer incentives should extra profits be made.
You might also like...