Why we Should Recycle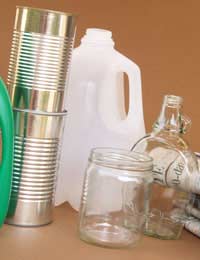 Recycling is a big part of the 'going green' crusade, and one of the first things you can get involved with when choosing to make your lifestyle more environmentally friendly. Recycling refers to the process of making something useful from material that's used or no longer useful. Taking glass bottles to your local bottle bank, taking unwanted clothes to your local charity shop, joining your nearest Freecycle group: all these are great ways to get involved with recycling.
But why should you recycle, particularly when it's just as easy to throw everything in the bin? Recycling might seem like the good thing to do, but sometimes it takes the hard reality of facts to really spur us into action, and realise that even the smallest of actions - like throwing even the odd tin can in the bin - has consequences for the environment.
So, just in case you needed some more concrete reasons as to why recycling is a good thing to do, this article sets out the arguments for why we should recycle.
Limited Natural Resources
Throwing out rubbish also means throwing away what could be valuable and increasingly scarce materials. We should be retaining resources as much as possible rather than getting rid of them unnecessarily. Here are just some of the materials that can be recycled and used again:
Batteries
Clothes
CDs
Aluminium cans
Food and garden waste
Paper and cardboard
Plastics
Glass
Limited Landfill Space
According to official estimates, there are less than ten years left before existing landfill sites are full up. The alternative is, of course, to create more landfill space, or incinerate the waste, which are both bad for the environment. Incinerating or burning waste emits CO2 and other greenhouse gases into the atmosphere. With a lack of space in the UK, it's surely more preferable to reduce the amount of waste we send to landfill by recycling it rather than speeding up the need to find more landfill space. And let's not forget what smelly, ugly places landfill sites are!
Know You're Part of The Green Revolution
Another reason why it's good to recycle, is that it feels good to do so! Getting involved and recycling can really make a difference when it comes to the environment, and this feelgood factor rubs off on you and others too. And with most local authorities in the country now offering door to door recycling collection, it's easier than ever to start doing your bit.
Set an Example for Future Generations
Setting a good example for our children and future generations is also a vital reason to start recycling now. The environmental damage caused by continuing not to will be felt even harder in 30 to 50 years time by our children and children's children, so it's up to us now to start better habits. It's also important to educate younger people on how easy it is to recycle, as well as the reasons why it's so important.
Recycling is More Energy Efficient
Recycling has been proved to be a more energy efficient method of creating a useful item. More CO2 and greenhouse gas emissions are creating during the creation of a plastic bag from scratch, for example, than the recycling of a plastic bag into another. This makes it a much more energy and resource efficient way of serving our material needs.
You might also like...