Composting and Climate Change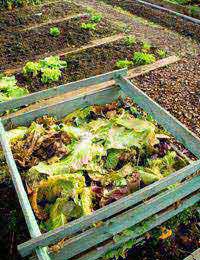 There are many ways in which we can do our bit to help reduce our carbon footprint and combat climate change. Perhaps the simplest of these, however, is by composting biowaste. This easy step can greatly increase the amount of carbon contained in soil, and also impacts on our waste management.
Why is Composting Important?
Every time you peel vegetables, or scrape away certain leftovers, you are limiting organic matter from impacting on climate change. By compacting waste, and then reusing it in our gardens, we are increasing the amount of carbon that is stored in soil. Applying organic fertilizers also helps slow down greenhouse emissions in arable soil.
Other benefits of adding organic matter to the soil include better retention of water, improved workability and a reduction in the release of nitrous oxide. Organic fertilizers can also reverse the decline in soil organic matter. The mix of carbon, nitrogen, water and oxygen provides the essential environment for decomposition of organic waste, but for optimum results careful attention should be paid to the type of organic matter being composted.
What Makes Suitable Composting Matter?
Kitchen waste contains a variety of nutrients, which allow composting bacteria to produce sugar and heat, and to thrive. Vegetable, fruit trimmings and coffee grounds all have a high nitrogen content. Eggshells also provide a good source of soil nutrient, but do take a lot longer to decompose than fruit and vegetable matter.
Composting Approaches
There are two methods of composting: one takes an active approach, which relies on composting at ideal conditions, whilst the other approach is more passive. Active (hot) composting requires that aerobic bacteria is allowed to thrive in temperatures exceeding 55C. The temperature for passive composting, on the other hand, never reaches 30C but is a much slower process.
Kitchen waste that is placed in a composting bin is then left untended and will start to produce a high water content. As this passive method provides no aeration the waste will soon emit a foul smell and significant greenhouse gases. Mixing in leaves, twigs or bark can however, reduce the unpleasant smell. Home composting however, can be successfully done using either approach, so ensuring your chosen method fits in with your lifestyle is worth considering before you begin.
Types of Composting Containers
Slatted sided or closed containers can both be used for composting. Where space is limited a cylindrical bin is recommended, although careful attention should be paid to aeration and carbon and nitrogen levels. In order to encourage recycling local authorities provide this type of composting container at a low cost price. The most important thing to get right however, is the correct mixture of carbon and nitrogenous materials and a good layering of rough and twiggy layers, as this improves the circulation of air.
Industrial Composting
Industrial composting offers an alternative waste management system that provides a means of reducing landfills. Most industrial and commercial composting systems rely on the active composting approach, which uses a short processing time and produces a good quality result. Quality control is achieved by using an enclosed vessel, for composting, which allows the control of temperature, air flow and moisture.
You might also like...