Tips & Advice on How to Have a Greener Holiday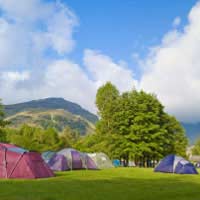 There's nothing quite like a holiday, but it's not always easy to see how we can have that fortnight away without compromising our green ideals.
Although flying has been on the receiving end of a lot of criticism recently, all forms of travel have found themselves thrust into the spotlight over climate change and no matter how you chose to go, there's no getting around the fact that there will be some environmental impact.
However, the good news for the eco-conscious traveller is that minimising your holiday carbon footprint isn't anything like as difficult as you might think. Whether you opt for a specialist eco-tour or prefer a more traditional package-holiday, a little careful planning can make a big difference to how green you can make your trip.
Green Holiday Travel
The less distance you cover, the smaller your impact, so picking a location near to home has obvious attractions for the green holiday maker - especially if what travelling you do need to do can be done by foot, bicycle or public transport. Even if you have to use cars or planes, you can still do something to help reduce the damage.
For example, making sure your car is in good mechanical health and with properly inflated tyres - and then driving it sensibly - can have a big effect on fuel consumption, while sharing the journey with a passenger or two, if possible, also helps maximise fuel efficiency.
For trips further a-field, flying is often the only realistic option, but even so, picking the airline with the most direct route or fuel efficient aircraft may mean you can cut back on those carbon emissions.
It is not often possible to do this for package deals, but even so you frequently can chose to take the minimum number of stop-overs or internal flights - it's the taking off and landing where most of the damage is done - and don't forget your carbon offset!
What is Ecotourism?
The rise of ecotourism has brought a wide variety of holiday opportunities to the market which have been specifically designed to cater to the growing number of green travellers who want the experience without the ecological cost. As a result, there are eco-friendly breaks available virtually from pole to pole, ranging from whale watching to working holidays - but there are traps for the unwary; not every operator claiming shining eco-credentials is necessarily being entirely truthful!
Although the reputable holiday companies do take care to check out their offerings, in the end it is up to you to make sure that things are as eco-friendly as you want them to be - though fortunately sorting the truly green from the simply green-washed is often not too difficult. Good operators will have a proper statement of their stance on the environment, covering issues as diverse as local employment policy, where they source their supplies and how they dispose of waste - and will make it easily available for you to see.
A little time reading this should tell you all you need to know and it should go without saying that any self-professed "green" company that doesn't have a policy - or claims to have one, but never quite gets around to letting you read it - should be avoided like the plague!
For the green traveller, there are always ways to make any holiday a little greener and many of them are surprisingly easy - and obvious. Simple things such as using the available public transport, hiring a local guide or buying locally-produced food and souvenirs can make all the difference. Sooner or later, we all need a holiday; with a bit of thought, we can have one that doesn't cost the earth.
You might also like...