Driving Emission Zones & Climate Change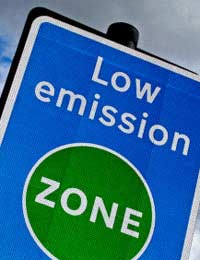 We all know that driving cars is bad for the environment - especially when the journey you're carrying out is unnecessary, or could be carried out via a more energy efficient form of travel.
As more and more emphasis is placed on going green in cities and towns, we should expect more measures to discourage the use of cars in urban areas to be introduced, and daily drivers of the least efficient vehicles to be penalised financially.
Driving emissions zones are exactly that - various government backed initiatives that set out sections of urban areas that are either completed restricted to certain vehicles, or make driving in some areas subject to a fee.
Both these types of schemes are currently running in London, but there are already signs that this could be extended to other cities in the UK. Here we set our congestion charging and low emission zones as two ways to lower pollution and reduce carbon emissions.
London Congestion Charging: How It Works
The green idea around the congestion charge is that it forms a compelling reason to dissuade people from using a car rather than public transport - that's through charging drivers for the privilege of driving in certain central areas of the city, at specific, peak times. Since the scheme was introduced, it's helped to cut the number of vehicles on the road in London and helped to reduce congestion in those areas by a fifth, and boost the number of cyclists by over 40 per cent. And according to government estimates, overall CO2 emissions have reduced accordingly.
London: Low Emission Zones
London currently suffers from the worst air pollution in the UK, and one of the worst in Europe. Former mayor Ken Livingstone introduced low emission zones as one way to tackle this, by restricting larger vehicles from travelling through certain sections of the city completely. At its launch, he said:
"London is now being widely hailed as the world's pre-eminent business and financial centre, as well as already being one of the most popular tourist destinations, and in a world that has to be increasingly focused on tackling climate change, the London Low Emission Zone will say loud and clear that we are also a city that places environmental protection at the top of its agenda."
According to environmental estimates, it's thought that the initiative will reduce CO2 emissions in the areas where current air quality does not meet EU air quality standards by 16% by 2012.
The Controversy & Debate
The schemes certainly haven't been without ongoing debate and controversy over their respective introductions. On the whole, it's been a much warmer welcome to the capital's low emission zones - but it has been pointed out that HGV vehicles will still need to complete their journey and may indeed end up driving more miles simply in order to avoid the zone.
The congestion charge's green credentials have often been shadowed by accusations of the scheme being simply a revenue raising exercise. Newly elected Mayor Boris Johnson has committed to block a previous proposal to charge so-called 4 x 4 'gas-guzzlers' more for the congestion charge.
Low Emission Case Study: Germany
Germany is one European country that has recently embraced low emission zones in many of their cities and major conurbations. Only vehicles that have applied for and purchased a pollution badge can drive in certain designated areas. And it's not just lorries and HGV vehicles either - the scheme also applies to cars too, making it less appealing to drive in inner city areas. The scheme is running in Berlin, Cologne and Dortmund among other cities, and is set to be rolled out over the next two years to all other German cities.
You might also like...