Tips & Advice For Green Energy Use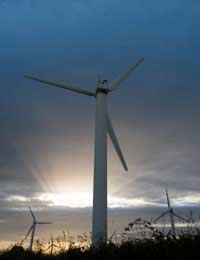 The energy we use to heat, power and run our homes is one of the UK's largest overall contributor of CO2 emissions. The vast majority of the electricity we use to power our homes is generated from fossil fuel sources - natural gas, coal and oil - and these give off massive quantities of CO2 and other greenhouse gas emissions.
There are, however, greener ways of generating electricity; namely renewable sources of energy including hydro electric, wind and solar power - but until more is invested renewable energy sources, fossil fuels will continue to answer the majority of our energy needs. Choosing a green energy supplier is one way of showing your support for renewable energy as well as reducing your carbon footprint.
But what is green energy, how does it work and how green are green energy suppliers? To answer your questions, here is the lowdown on green energy.
Green Energy Tariffs - The Basics
Next time you come to review your energy tariff, ask your supplier if they offer a green energy tariff that you can sign up to. Different tariffs work in different ways, but on two basic premises - that of renewable energy and carbon offsetting.
Green Energy: Commitment to Renewable Energy
Green energy tariffs offer you the chance to take your electricity solely through renewable sources, such as solar energy and wind power. These sources of energy are cleaner and emit less CO2 than fossil fuels - and they won't run out either. For each unit of electricity you use, your supplier will replace a unit into the national grid from a renewable source.
At present, the amount of electricity generated by renewable stations is not enough to provide green electricity to everyone in the UK. To combat this, some green tariffs will pay into a green fund or scheme when you sign up, which will be put into research and development of new renewable plants and technology. By signing up to green energy suppliers, you are endorsing the UK's long term commitment to cleaner electricity production.
Green Energy: Carbon Offsetting
Other green energy sources will carbon offset the units of electricity you use - matching your usage with a contribution towards one of the many worldwide carbon offsetting schemes. These projects are wide-ranging and diverse, but ultimately seek to reduce CO2 emissions to match or offset CO2 generated in electricity production - including:
Biomass power stations in Russia
Tree growing and reforestation in South America
Efficient stove cooking in Mexico
Cleaner agricultural techniques and equipment in Africa
How To Choose A Green Energy Supplier
There are dedicated green energy suppliers on the market, such as Good Energy, who specialise in environmentally friendly electricity production. Alternatively, all of the major electricity suppliers such as British Gas and nPower offer a green energy tariff.
Because tariffs differ from supplier to supplier, you should always ask for specific information relating to how green the tariff is - as well as shopping around to see which company offers the most economical option. A green energy tariff shouldn't cost any more than a standard plan.
More Energy Saving Tips To Lower Your Energy Bills
As well as choosing a green plan, you should always try to reduce the amount of electricity you use in your home:
Switch off lights and equipment when not in use
Don't leave appliances on standby - take out the plug from the socket
Turn down the thermostat by a degree
Choose energy efficient appliances
You might also like...