More Environmentally Friendly to Get a Second Small Car?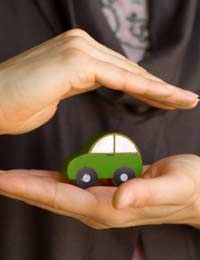 Q.
We are a family of five (and a dog) and currently own a people carrier/mpv (a big 'fat tank' that is needed occasionally) - mainly when we camp or go away. We walk/cycle the mile to school. We live in London so I dislike using it and only do if I have to.
Is it more or less environmentally friendly to get a second very small car for the 'London use' or stick with the one tank?
(K.D, 8 April 2009)

A.
Not surprisingly environmental concerns are affecting the auto industry in a big way. However, this does not stop consumers buying a second car if it is a necessity. If you are environmentally minded though, you will obviously be bearing global issues in mind, when considering which car to purchase.
Size Matters
Small cars are lighter in weight, cheaper to buy and run, and also have less resale value – which means they are unlikely to have many previous owners before they are scrapped. The compact size of a small car therefore also influences fuel consumption, which makes this size vehicle much more environmentally-friendly than its much larger counterpart. Small cars use far less petrol, which means less greenhouse emissions. They are also considered to be reliable, and therefore a good purchase.
Hybrid Vehicles
A hybrid car is the greenest car on the market. This type of vehicle uses an electric motor, which is used to power the car when it is running at low speeds or is idling. Because of this there is a reduction in fumes and emissions that are released into the atmosphere, making it an economical and environmentally aware purchase.
Car manufacturers now label their new cars with a colour-coded environment tag. This is so car buyers can easily identify carbon emission grading. An A grade means the vehicle has the lowest carbon emissions, and a G has the highest.
Greener Driving
Privately-owned vehicles produce the majority of the transport-derived greenhouse gases in the UK. Although engines have become more efficient there is a greater number of vehicles on our roads today. There are however, a number of ways in which you can help reduce your own carbon emissions.
Reducing car use is not only good for the environment but also improves personal health and fitness, particularly if you opt to walk or cycle to your destination instead. Using public, instead of private, transport also reduces carbon emissions. If you must use your car however, ensuring you maintain good car preparation standards – for instance, making sure your car is regularly serviced and the tyre pressure is checked fortnightly – will help promote greener driving. Planning your journey, before you set off, will help minimise the amount of fuel you use, as too will car sharing.
You might also like...
I am vegetarian...what would I eat when you state stopping eating eggs and dairy products? What do I do with all the eggs laid by my chicken?
Krys
- 8-Oct-18 @ 1:55 PM