What are Green Finance Options?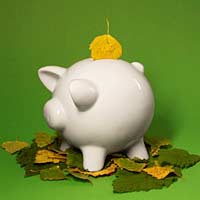 With consumers becoming increasingly environmentally aware, banks, building societies and other financial institutions have woken up to the value of the "green" pound and eco-friendly accounts, loans, mortgages and other financial products are slowly beginning to appear.
Since few of us manage to escape the need for banks, credit cards, pensions or insurance entirely, for anyone looking for practical solutions which don't threaten your principles – or the planet – the latest generation of green finance options have a clear appeal.
Green Car Insurance Options
From an environmental point of view, on the face of it there would seem to be something of a contradiction in the whole idea of green car insurance. After all, with road traffic contributing about a quarter of the UK's total annual carbon emissions, encouraging cars hardly seems particularly eco-friendly.
Never-the-less, given the state of public transport in some parts of the country, the motor car is likely to be a necessary evil for the foreseeable future, so anything which lessens the impact must be a good thing. One of the most appealing developments to emerge recently is the idea of carbon neutral insurance – based on the well-established principle of carbon offsetting.
A quick calculation by the insurers based on the make, model, engine size and your typical annual mileage allows them to give you a competitive quote with a fee built in to pay for a suitably-selected environmental project to capture the same amount of CO2 as your car usage generates. The schemes involved include renewable energy initiatives in the developing world, education programmes in the Caribbean and sustainable forestry in the UK.
Although car insurance is a particularly competitive sector of the financial services market, the unique green appeal of this sort of product makes it likely to become increasingly popular in the coming years.
Green Mortgage Options
There is little escaping the fact that the green mortgage market is decidedly "niche" – but the number of suitable products is steadily rising as the whole concept gradually becomes more mainstream. The idea behind green mortgages is simple; a sustainable approach to house-buying that offers environmental benefit, though like much of the financial market, the devil is in the detail – if not the jargon and the small print! Individual lenders have their own approaches, so it is important to look at all the possible options to find the best one for your particular needs.
One of the best things about this type of mortgage is that the lenders will often be prepared to look at the sort of eco-friendly building projects that other financiers will not. Projects involving unusual building conversions, the use of unconventional materials and other earth-friendly schemes may well find favour – and financing – with green mortgage companies.
However, the demands made on borrowers in terms of energy efficiency, sustainability and environmental impact are likely to be somewhat higher than the conventional High Street firms typically impose.
Green Banking Options
Ethical investment lies at the heart of much of green banking; most of the money made by the various players in the financial sector comes from their portfolio of investments – and not all businesses which they support are necessarily as eco-friendly as you might like. Ethical accounts only put money into the stocks and shares of green companies, with a careful watch being kept to ensure the standards are maintained.
The number of banks offering this type of account is quite small currently, but there does seem to be a growing interest in the whole idea and if consumer pressure continues, it seems likely that more will follow in the future.
With banking being a global business, there is plenty of scope for the major banking groups to do their part to help reduce environmental degradation - and in fairness, between establishing ethical and green policies, and seeking carbon neutrality, many of them are.
As an increasing number of us take greater interest over where our money is going, this trend is sure to increase and more green options are likely to emerge to make it easier to make ethical and environmentally-sound financial decisions. Even with things as they are today, with the whole green finance market still in its early days, if you're prepared to do a bit of research, there should be something to suit.
PREVENT CLIMATE CHANGE IS FOR SALE.
This website is for sale [more info].
You might also like...